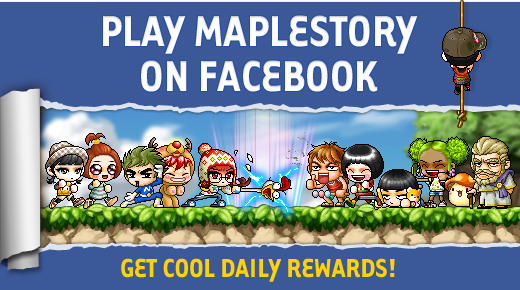 Dear Maplers,
MapleStory, meet Facebook! Your favorite MMO is joining you on your favorite social network, and you get to reap the rewards! MapleStory Adventures is a social game with all the 2D side-scrolling monster-slaying action of MapleStory. All that's missing is you!
By linking your account, you will be able to earn EXP and Mesos for your MapleStory account while playing MapleStory Adventures!
To link your accounts, click on the MapleStory Badge icon that will appear near your Quest icons once you reach Level 5.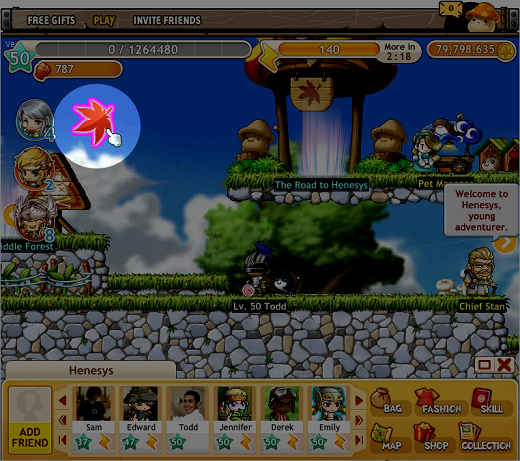 Then all you need to do is enter your Nexon account information.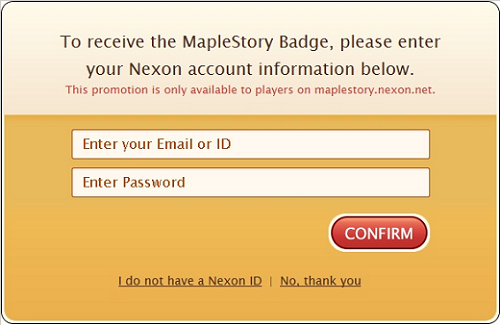 After you've linked your accounts, when you play MapleStory Adventures your MapleStory Main Character will receive daily gifts of EXP and Mesos! This promotion will run until September 4, 2011.
Remember:
• You will need to have a Main Character assigned in MapleStory to receive rewards. If you don't have a Main Character assigned, you can do so at the Character Info section of the MapleStory website.
• You must log in with your Main Character to receive your rewards.
• Rewards are given out once a day for each day that you play MapleStory Adventures.
• The amount of EXP and Mesos that you receive is dependent on how much EXP you've received in MapleStory Adventures as well as the level of your Main Character in MapleStory.
• If you don't redeem your daily reward by logging onto your Main Character, the rewards will expire within seven days of when you earned them.
• Once you have linked your accounts, you will not be able to link to a different Nexon account.
Head to Facebook to start your MapleStory Adventure. Happy Mapling!